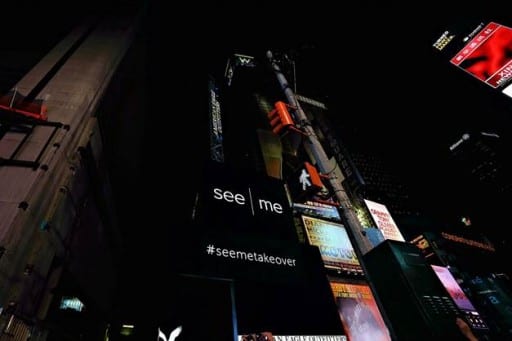 Visual Medley: See.Me Lights Up Time Square
Thursday night See.Me, a web-based art establishment with a gallery space located in Long Island City, celebrated creativity in the heart of Times Square. A one-hour animated collage previewed on the American Eagle 25-story tall video billboard on Broadway and 46 street. The visual medley featured images from thousands of artists. Passersby with smartphones and cameras clicked away and uploaded photos and video on Instagram using the popular hashtag, #Seeme.
Founded in 2007 under Artists Wanted, by Jason Goodman and William Etundi, Jr., See.me is committed to supporting and promoting talent in the areas of art, photography, and fashion. Artist Ben Moon, whose piece,"Wake Up" made its unveiling was in attendance just days after his appearance at the Wounded Warriors Charity event in Amagansett.  Although See.me does not represent specific artists, the establishment has a gallery space that hosts regular public exhibits.