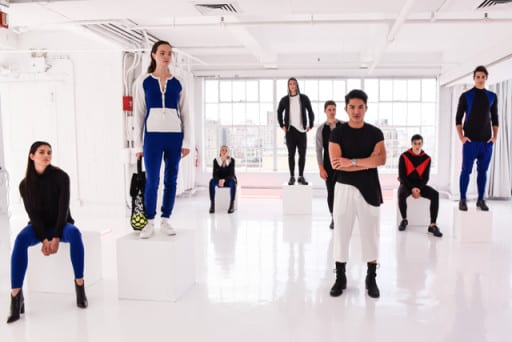 West 56's Spring/Summer 2016 collection was filled with fresh and trendy athleisure styles. Black, white and grey tones were used heavily, with dark hues of red and blue used sparingly throughout. The designers wanted function and structure to be the focus of the collection, highlighting separate tops and pants with clean, crisp lines.
The designers chose to break up the collection into two separate lines: a thermal line and a cool line. The thermal line was constructed with nano-tech fabric to keep the wearer warm and dry in the colder months. However, this wasn't your typical basic thermal undergarment that your mother forced you to wear the first sign of snowfall. Each piece had the aesthetic of an innovative jumpsuit, giving a new perspective to an old winter staple. Greys and blacks were predominantly used in conjunction with deep red or blue geometric prints.
The cool line was complete with light, chiffon-esque fabrics to keep the wearer chill and airy. Nude tones were sprinkled throughout with black and white as its anchor.
Overall, West 56 put a new twist on minimal styles, guaranteed to keep the wearers stylish yet prepared for climate changes this coming spring.
Photo: BFANyc