Uniqlo Debuts A New Tokyo in SoHo
Fast retailing company, Uniqlo is celebrating 10 years at the global flagship store at 546 Broadway, between Prince and Spring Street with a major revamp, bringing, A New Tokyo in SoHo, linking the brand's Japanese origins with the SoHo neighborhood. "We look forward to re-engaging with our SoHo neighbors and customers through the re-launch of our SoHo Global Flagship Store," noted Hiroshi Taki, Uniqlo U.S.A CEO. "The new store will highlight the 'everyday miracles' that Uniqlo aims to continue to provide our customers – products and innovations to improve people's lives."
The 28,000 square foot space that spans 3 floors was remodeled, and now features touches of Japanese culture adorned with contemporary art. The store's mezzanine level is reminiscent of a SoHo artist's loft and will be used as a working exhibition space featuring products like SPRZ NY (Surprise New York), a collaboration between UNIQLO and MoMA, giving access to iconic artists like Andy Warhol, and Jean-Michel Basquiat.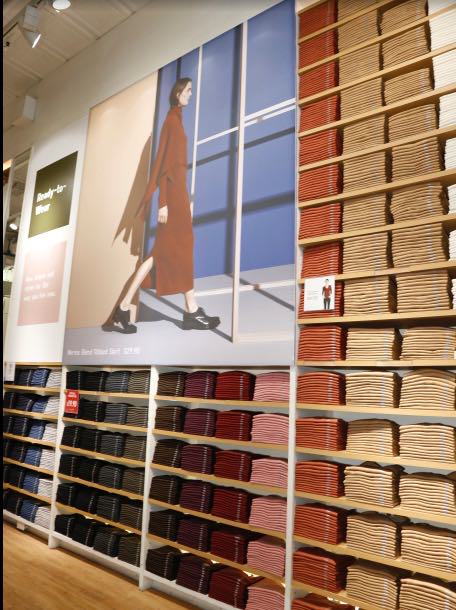 The Uniqlo SoHo flagship store highlights 12 multiple shops-in shop focusing on the company's innovations in fabrics, designs and technologies. Each shop-in-shop has its own concept including a Design Studio for women's flannel shirts, merino sweaters and wool outerwear, showcased alongside a vintage sewing machine and measuring tape highlighting Uniqlo's design process. A Get Moving shop features performance technology such as Blocktech coats and dry sweat active wear to wick away moisture and features bicycles from tokyobike on display. A Supima Perfection shop for cotton t-shirts highlights an assortment of styles alongside traditional Japanese tea ceremony tools to invoke the philosophy of 'simple made better'. A Living Well shop features innerwear items and fluffy fleece presented with candles, creating a relaxed environment. And a Tokyo Newsstand concept will present the latest of Japanese fashion, lifestyle and design with over 60 magazines titles, including men's fashion magazine, Popeye.
To mark the occasion, this Labor Day weekend the Uniqlo SoHo store will hand out mystery gift cards in store each day ranging from $5 to $100 and the first 25,000 customers will receive a limited edition UNIQLO x Pintrill pin observing the re-launch of the store.  During the opening weekend and every weekend throughout September customers can sample signature Matcha beverages courtesy of MatchaBar. Local restaurants and bars are also teaming up this weekend with the retailer by offering beverage coasters with discounts to be redeemed at the Uniqlo SoHo store.
Photo: Courtesy