Warning! These Spooky Drinks Are The Best Halloween Cocktails To Imbibe At Your Adult Party
It is almost Halloween, guys. Although it is often considered a children's holiday, tricks and treats are not just for kids. Halloween is the perfect excuse to dress up, but in another way, so get creative! We have listed some sinister cocktails to serve at your upcoming spooky soiree, or grown-up bash. Libations involving Mezcal, tequila, whisky and wine. Looking for cool recipes for your party? Click here for Potato Witch Fingers, and Batwing Pies. Whether you are celebrating Halloween, or Dia de los Muertos, these cocktails will delight costume-clad guests, and keep the party flowing all night long.
Spellbinding Brew:
(Serves 8)
Ingredients:

2 cups RumHaven
1 cup Fresh Lime Juice
1 cup Grenadine
Top w/ Ginger Beer
8 Lime wheels
Method:
Combine RumHaven, lime juice and grenadine into a pitcher filled with ice and lime wheels. Top off pitcher with ginger beer and stir gently. Serve in ice-filled Collins glasses and add a drizzle of grenadine to each cocktail for additional garnish.
The Nightmare on 27th Street
(By The Wilson)
Ingredients:
5oz Ilegal Joven
.75oz Chinola Passion Fruit/Guava Syrup Batch
2 Orange Wheels in tin with liquids
2 Sprays of orange blossom water from an atomizer
Method:
Add all ingredients into cocktail shaker with ice. Shake vigorously. Half rim glass with black lava salt. Strain mixture into a rocks glass topped with ice. Spray orange blossom and allow mist to fall naturally over the top of glass.
The aBOOlour
Ingredients:
2 parts Aberlour 12 Year Old
1 part Sweet vermouth
1/4 part All Spice Dram
2-3 dashes of Angostura Bitters
Method:
Add all ingredients to a mixing glass filled with ice. Next, stir until cold and strain into an chilled Old Fashioned glass. Garnish with a lemon rind and maraschino cherry skewered onto a cocktail pick.
Margarita Muerta (The Dead Margarita)
Ingredients:
5 oz. Camarena Silver
.5 oz. Blood Orange Liqueur
.5 oz. Fresh Lime Juice
.5 oz. Agave Nectar
1 oz. Passion Fruit Nectar
2-3 slices of Jalapeno
Method:
Add all ingredients into a cocktail shaker filled with ice, and shake together to combine/chill. Next, strain into a festive Mexican skull mug (if desired), and fill with crushed ice. Garnish with dehydrated lime, the interior contents of a passion fruit, and a burning cinnamon stick.
Stella Rosa releases its award-winning wines dressed up for Halloween. Four of the brand's signature wines are masked in a colorful, limited-edition art series.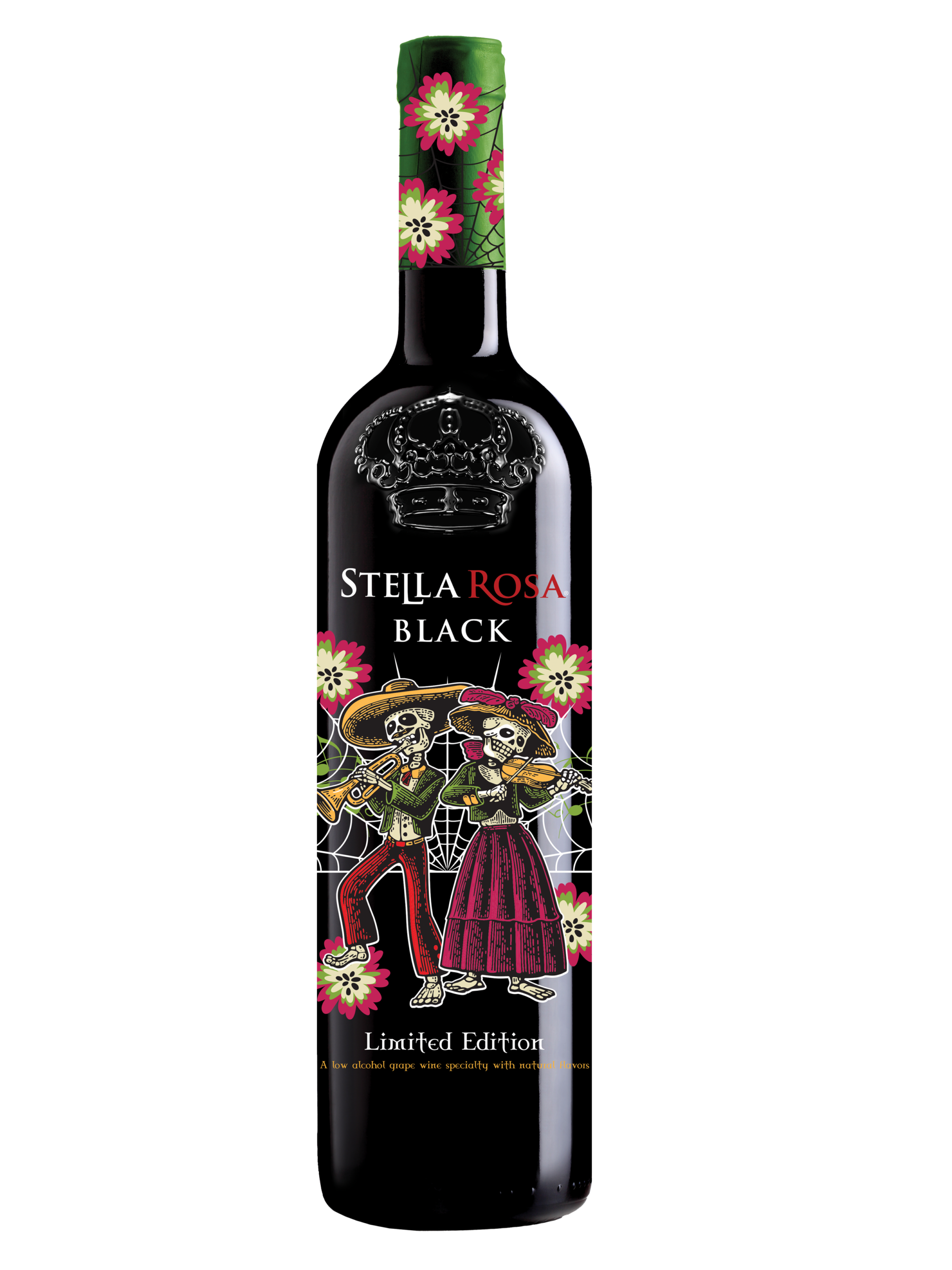 A bottle featuring two dancing skeletons play instruments on Stella Rosa Black, revealing a sultry wine with ripe blackberry, blueberry and raspberry flavors.

A mysterious Day of the Dead femme fatal strikes a pose in the Stella Rosa Red involving a wine with ripe raspberry, wild strawberry, and red plum notes.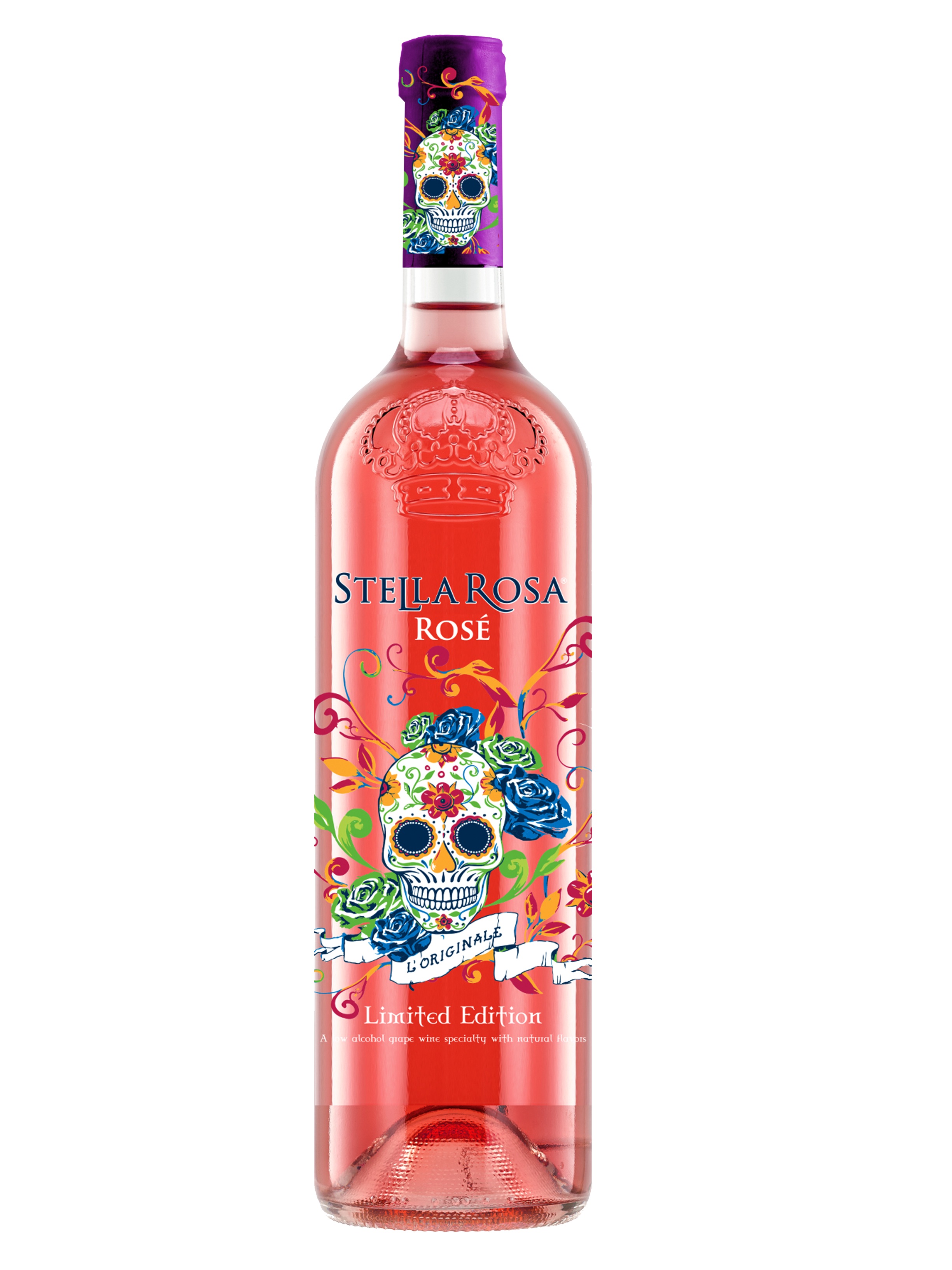 The Stella Rosa Rosé bottle highlights a skull engulfed in a myriad of flowers. The pink- hued treat features luring mountain berries and rose petals flavors.

Stella Rosa Peach is hypnotizing intricately adorned calavera, involving the wine's delicate white peach and honey aromas.
Photos: Courtesy