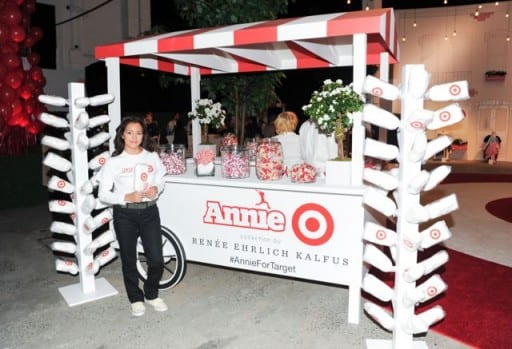 Target Launches Limited Edition Annie Collection
It's a hard knock life…. 
Not for the kids here at the super chic and super family fun party as Target launches the limited edition Annie Collection. 
 Pass the sugar, pass the slider and pass me a drink!
Target really hit the bullseye with this 25-piece limited-edition girl's only fun collection. Target along with "Annie" costume designer, Renée Ehrlich Kalfus, capture the essence of the movie and its young vibrant and outgoing cast of characters.
This collection has everything a little girl and mom could need and want from a red holiday dress with faux fur stole, patch work and embroidered denim, sequins sleeved jackets and some cute and essential accessories.
Mom's in the know like Molly Sims and Camila Alves were on hand to give some styling advice and enjoy the event. Oscar nominated actress Quvenzhané Wallis, of "12 Years A Slave" and "Beasts of the Southern Wild" and the new face of "Annie" showed off her style and grace.
The sun will come out on this collection November 16. "Annie", starring Wallis, Jamie Foxx and Cameron Diaz is set to hit theaters Dec. 19.
Photo: BFANyc
SaveSaveSaveSave