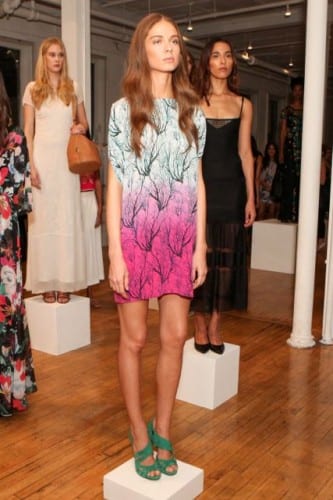 The Unveiling Of French Connection Spring/Summer 2015
British retailer French Connection celebrated its Spring/Summer 2015 Collection with a chic loft party held in the Michelson Gallery Penthouse located in Manhattan's West Village. Guests included Poppy Delevingne, Harley Viera-Newton and Philip Bloch with DJ Brendan Fallis manning the turntables.  The centerpiece of the party was a small army of models outfitted in the brand's key looks for the season: A juxtaposition of print and floral mini and maxi dresses with more simplistic lightweight dresses and denim shorts. It's clear the brand envisions a summer defined by neutrals and monochromatic looks.
French Connection isn't shying away from its use of prints in its men's collection as well.  Accessories play an essential category for men as was noticed in a great statement led by an embossed leather faux snakeskin duffle and Dopp kit. Most of the men's looks were accented in blue and paired with sneakers, (both the slip on and athletic varieties). For the upcoming Spring/Summer 2015 season, French Connection's trend predictions fall right in line with everything we saw during fashion week, and the collection is a sure way to make the runway your reality.
Photo Credit: BFANyc
SaveSave