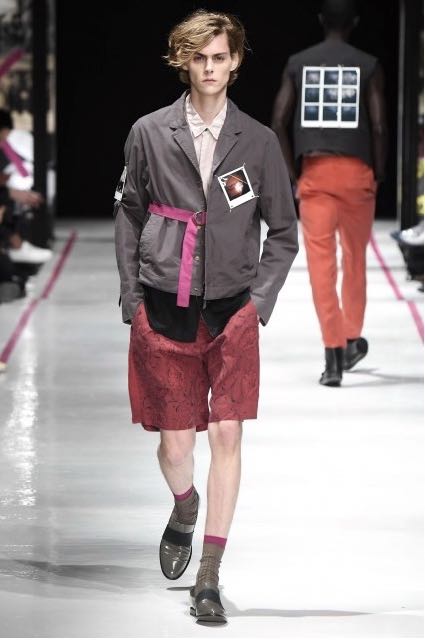 Robert Geller presented a magical look into Berlin during the late 1980s in his Spring 2017 collection for men's.
Robert Geller undoubtedly took his guests for a ride to a time that they have never seen before and will never forget with his Spring/Summer 2017 runway show. Geller gives his guests a magical look into Berlin during the late 1980s. Geniale dilletanten– the raw and envelope-pushing subculture of Berlin set the tone as the backdrop for the heart pumping runway show. The show presented by the Berlin native screamed Berlin brilliance with each look that entered the runway. Each piece was inspired by the sun and wind of the North Sea but also included inspiration from but did not stray away from the punk culture that is unrefined.
Models strolled from a graffiti filled glass arch, giving guest a peek into Germany. Hues of sand and navy blue dawned the collection, which paired perfectly with the uncensored theme. Rope tied bags and fur pom poms graced the runway to compliment the apparel, which was crafted in satin fabrics and diverse texture combinations. Keeping each look original, there was something within the collection that would be loved by all.
Not only traditional colors of the sea were used but also pop of neon leopard and "old school" floral prints pranced were shown. Many pieces that came down the runway read the phrase Berlin Brennt meaning "Berlin Burns" which brought much excitement as press and buyers viewed with curiosity. Breaking all the rules and norms showed a collection with a very vibrant and energetic personality. Geller has sure enough captivated each and every heart of today's youth with his revolutionary designs that provides originality and spunk.
-Symone Simon
Photos: FashionGPS