Chefs & Champagne Celebrates 27thAnniversary Fete At Wölffer Estate Vineyard
Considered the East End's premier foodie summertime affair, The James Beard Foundation hosted the 27th annual Chefs & Champagne event at the Wölffer Estate Vineyard in Saggaponack. The event raises funds for the foundation's philanthropic work including scholarship, education and JBF Impact Programs, including the annual Food Summit and Leadership Awards that help to promote a better food system.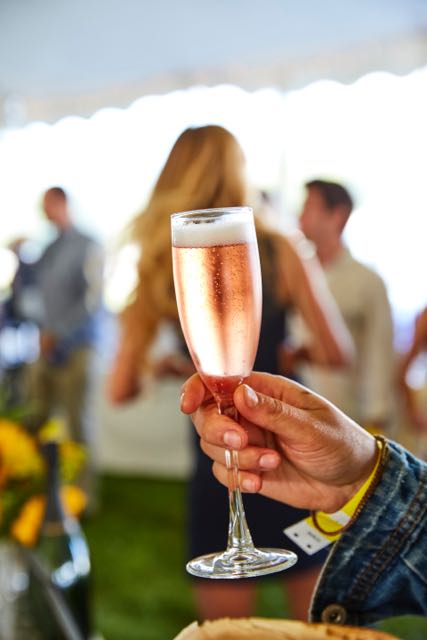 Wolffer Estate Sparkling Rose at the James Beard Foundation's Chefs & Champagne® annual summer fundraiser at Wölffer Estate Vineyard in the Hamptons on July 29, 2017. Photo by David Chow / Courtesy of the James Beard Foundation.[/caption]
Chefs & Champagne brought over 35 chefs from New York, California, and Tokyo to help fete this year's honoree, Marcus Samuelsson. Barons de Rothschild provided endless champagne. The multiple award-winning chef, author and restaurateur, now joins the ranks of Bobby Flay, Emeril Lagasse, Wolfgang Puck, and Martha Stewart who were past honorees.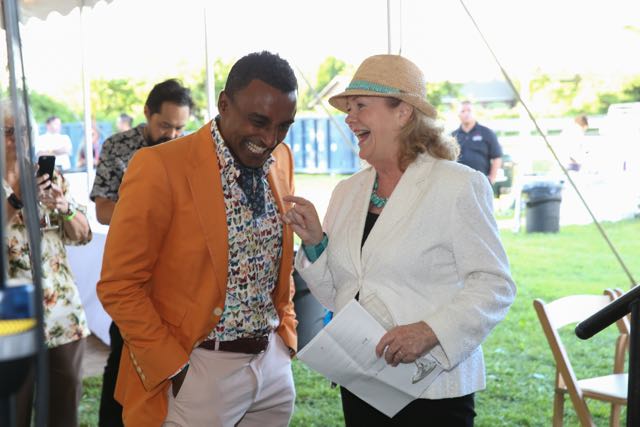 Honoree Marcus Samuelsson and JBF President Susan Ungaro seen at the 2017 JBF Chefs and Champagne at Wolffer estate on Saturday, July 29, 2017 in Sagaponack, N.Y. (Photo by Mark Von Holden/Invision for James Beard Foundation/Invision
"This year's summer fundraiser honoring Marcus Samuelsson was one of our most successful ever," noted Susan Ungaro, president of the James Beard Foundation. "Marcus is a role model for chefs, restaurateurs and culinary entrepreneurs worldwide. His extraordinary talent, philanthropic endeavors, and boundless energy to help others complements our mission to celebrate, nurture, and honor chefs and other leaders making America's food culture, more delicious, diverse, and sustainable for everyone."
Over $100,000 alone was raised in the silent auction that highlighted one-of-a-kind dining experiences, culinary travel packages, and featuring wines and spirits and cookware. With so many Buzzworthy chefs and champagne flowing it was an elegant occasion. Participating chefs included Matt Abdoo of Pig Beach Brooklyn, Brian Cheewing of Wölffer  Kitchen, Sag Harbor and Amagansett, Michael Jenkins of Butter NYC, Jeffrey Mcinnes and Janine Booth of Root & Bone, NYC, Fumio Yonezawa of Jean-Georges Tokyo, as well as Marcus Samuelson of Red Rooster Harlem and Streetbird, NYC, and Marcus at the MGM National Harbor Hotel, Washington, D.C.