Playboy Partners With Biofit On New Lingerie Line
"America's favorite bra" is branching out to be their former ally Victoria Secret's new competitor.
The intimate apparel company, The Bendon Group, has teamed up with Playboy to create a simple yet sexy lingerie line known as BIOFIT x Playboy. Don't expect to see a noticeable bunny symbol or fluffy tails on these hot goods, this line is strictly for the grown and sexy.
This online only collection includes 9 bras, 18 different panties and 1 corset. The size range runs from 32A-38DD in bras and from XS-L in panties.
The Fit Advice section of the website is a very helpful guide to sizing yourself for product that you can't try or touch. It has a bevy of information and will answer any questions you may have.
WHERE IS THE BUNNY?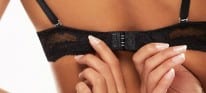 Check the back of the bra and you'll see the smallest bunny in the world.
SO WHY PLAYBOY?
Playboy has collaborated with brands such as Marc Jacobs, Hanky Panky and Supreme. Playboy's other collaborations have been saturated with the bunny and has been more of a playful nostalgia to Playboy ladies of the past.
"At Bendon, we're proud to deliver the latest in intimate apparel innovation. BIOFIT x Playboy fuses the allure of Playboy with our renowned BIOFIT technology for a contemporary, stylish and seductive everyday line," said Justin Davis-Rice, CEO, Bendon. "We couldn't be more thrilled to partner these two iconic brands to offer customers with a new and improved intimates experience."
Victoria Secret's BIOFIT bra lovers can breathe a sigh of relief for the return of their much-loved bra at an affordable price.
Photo: Playboy
SaveSave