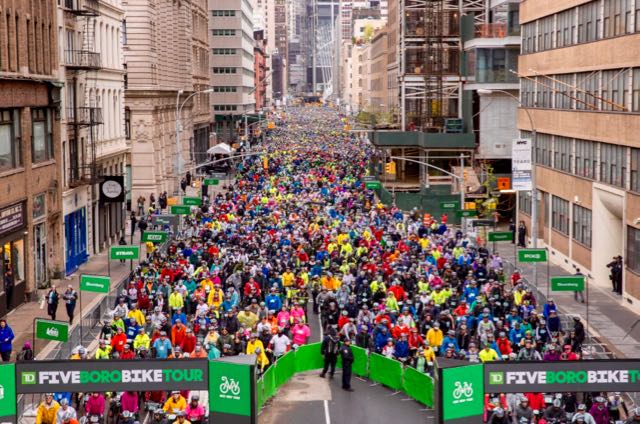 2016 TD Bank Five Boro Bike Tour
The TD Bank Five Boro Bike Tour is the nation's largest cycling event. One does not get a sense of the scale of the event until they arrive at the start where 32,000 riders pack Church St in lower Manhattan for approximately 1.5 miles. In fact, the ride has four staggered start times 20 minutes apart to help alleviate congestion. With the increased popularity of bike riding the tour has become somewhat of a bucket list event for a lot of people and riders come from every state and dozens of countries. After all what better way to see New York City than from a bicycle cruising on its car free streets, highways and bridges.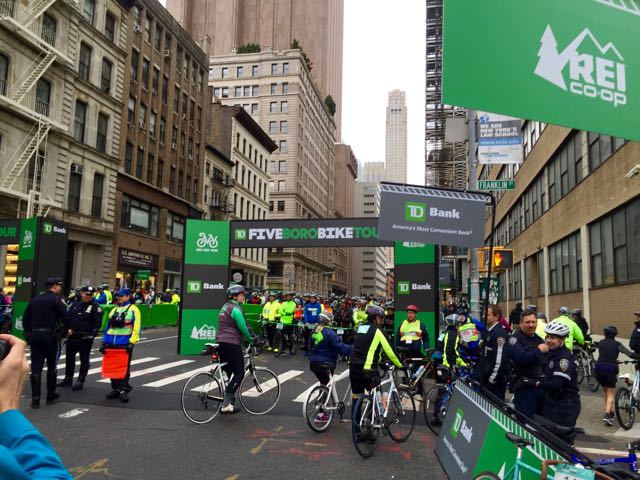 The day before the ride Bike New York sent an email to all riders alerting them of the cold and rainy weather and to dress appropriately and ride with caution. Despite the ominous forecast most showed up and why not? Since this is NYC if one feels conditions become perilous subway bailouts are a plenty. After the sponsors and politicians are done speaking, the drizzle and the ride begins! We head up Sixth Avenue past and through landmarks like Radio City Music Hall, Central Park, through Harlem, briefly into The Bronx and onto the FDR Drive.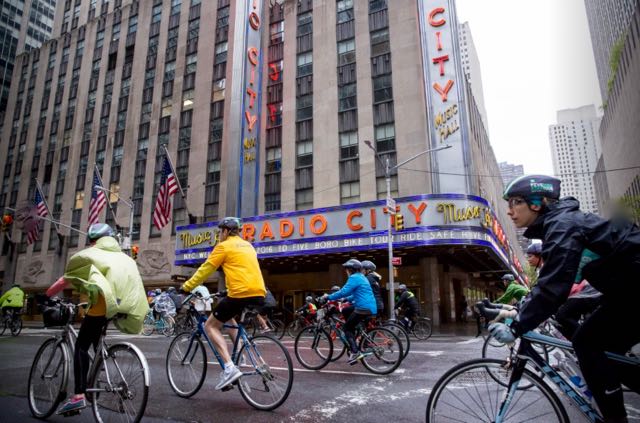 Throughout the ride, Bike New York has entertainment in the form of bands that reflect the local color of the neighborhood. This means a gospel singer and a reggae group in Harlem and a World Music band in the South Bronx. My musical highlight was hearing Dancin' Machine in Queens playing classic '70s disco tunes.
As the ride enters Brooklyn the rain gets heavier and my entire body becomes soaked and semi frozen. The temptation to bail is there but I know I am in this for the long haul. I enter the ramp to the Brooklyn Queens Expressway and make my way to the Verrazano Narrows Bridge to the finish festival in Fort Wadsworth in Staten Island. By now, many riders had bailed so the saving grace is there is no line for a post ride massage.
The tour is produced by Bike New York with proceeds funding their educational and bicycle safety programs throughout the year.
Photos: Tod Seelie for REI