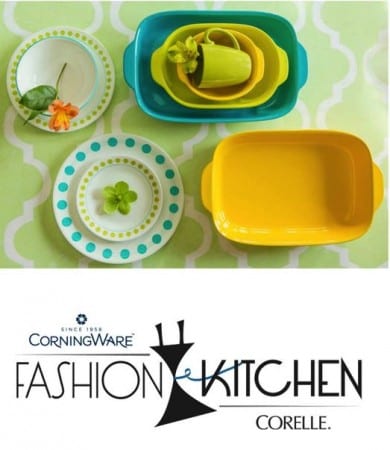 A Fashion Kitchen That Brings Tasty Recipes With Trina Turk And CorningWare
Designer Trina Turk has joined forces with Chef Seamus Mullen of El Colmado and Tertulia to celebrate all things colorful by co-hosting a private event during Mercedes-Benz New York Fashion Week with CorningWare. For the second year in a row, CorningWare has partnered with a designer in offering the fashion crowd with foodie interest the opportunity to attend a Fashion Kitchen event. Trina Turk will provide tips for fashionable entertaining with vibrant colors, while Mullen will prepare tasty recipes prepared in CW by CorningWare™ bakeware. "I love to host and am excited to work with the line-up of CW by CorningWare products to showcase how to embrace color when entertaining with versatility and ease, " noted Turk.
Now through August 17, food lovers can enter the Fashion Kitchen Sweepstakes for the opportunity to win the weekly Fashion Kitchen giveaway of CW by CorningWare and Boutique by Corelle merchandise, a trip for two to attend the Fashion Kitchen event at Mercedes-Benz Fashion Week co-hosted by Turk and Mullen and an invitation to Trina Turk's fashion show. To learn more including how to enter, click here.
SaveSave