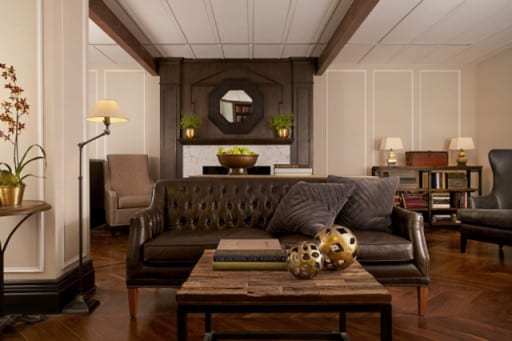 The Gregory located at 42 W. 35th street has officially opened its doors to NYC guests. The 132 room- tailored boutique hotel was inspired by a townhouse and embodies the coziness of home in a modern and curated fashion to deliver the New York City experience just a few steps away from Herald Square and the Empire State Building. The Gregory is the second collaboration from the same team behind the upcoming launch of The Renwick, which will open this fall at 118 E. 40th Street.
The hotel initially opened its doors in 1903 as The Gregorian, the sister to the original Waldorf-Astoria location, now the Empire State Building as it accommodated the overflow of guests checking into the Waldorf-Astoria. Now complete with a $10 million renovation, today's Gregory pays tribute to its past with incorporating design elements from early 20th century against a modern aesthetic. The lobby is intimate, featuring a rich walnut herringbone floor and a beautiful chandelier and was designed as a gathering place for guests and locals. There is a marble bar, opposite the check-in area that features freshly pressed artisanal coffee and tea in the mornings in a communal work energy environment and craft cocktails in a refined living room ambience in the evenings.
The rooms are decorated in black, white and gray to emphasize the vintage architectural elements found such as high ceilings, bay windows, crown moldings and mosaic tiles. Bathroom amenities include Brooklyn-based skin care line Apotheke crafted exclusively for the hotel. Rates at The Gregory start at $379 per night.  To learn more, please visit www.thegregoryhotelnewyork.com.
Photo: Courtesy of The Gregory