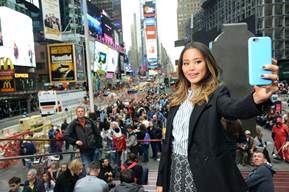 The Retailer Old Navy Turns 20
Old Navy is ruling out convention for celebrating their 20th Anniversary with China and Platinum by fêting a #selfiebration in Times Square. On Wednesday, October 22 between 10am- and 6pm Old Navy will throw a birthday "selfiebration" featuring a 15- foot tall billboard created by roughly 1,000 balloons, expanding in real-time to outline a personalized "balloon selfie". Guests are invited to join and wish @OldNavy Happy Birthday along with their personal wish while watching their selfies blow up over Times Square. Who knows? Your wish may come true!
Rumor has it that three lucky winners will be granted their exceptional wish, which could be anything from a meet and greet with a celebrity on set of an Old Navy ad or vacationing in Hawaii. If not in the New York City area not to worry: Birthday wishes can still be sent by uploading a selfie via Twitter to @OldNay using the hashtag #selfiebration for a digitally-rendered GIP of their balloon close up with a chance to win the birthday wish as well.
SaveSave