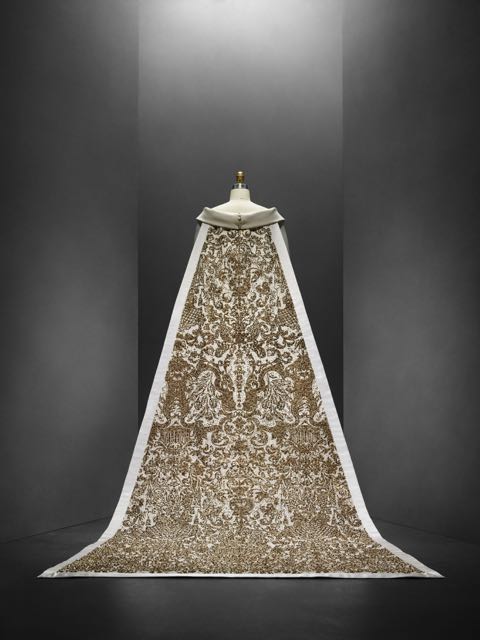 Wedding ensemble, Karl Lagerfeld for House of Chanel, Autumn 2014-15
"Manus x Machina" will celebrate its opening at the Met Gala.
The Metropolitan Museum of Art's Costume Institute Spring 2016 exhibition is entitled, "Manus x Machina: Fashion in an Age of Technology". It is being presented in the museum's Robert Lehman Wing and the Anna Wintour Costume Center. The exhibit is a thought-provoking exploration of how designers are integrating the handmade and the machine-made in the creation of haute couture and avant-garde ready to wear. "Manus x Machina" highlights 170 garments from designers including Sarah Burton, (for Alexander McQueen), Pierre Cardin, Gabrielle "Coco" Chanel, Maria Grazia Chiuri and Pierpaolo Piccioli (for Valentino), Christian Dior, Alber Elbaz (for Lanvin), and Jean Paul Gaultier. The garments dating from the late 1800s to 2015 address the invention of the sewing machine and the rising distinction between the hand (manus) and the machine (machina) at the influx of mass production. "Traditionally, the distinction between the haute couture and prêt-à-porter was based on the handmade and the machine-made, but recently this distinction has become increasingly blurred as both disciplines have embraced the practices and techniques of the other," noted Andrew Bolton, Curator in Charge of The Costume Institute.
The museum's first floor and ground level of the Robert Lehman Collection galleries reveal a string of case studies contrasting haute couture and ready-to-wear to determine the realities and myths of the hand/machine question. Traditional trades of haute couture including embroidery, lacework, feathers, and artificial flowers are presented alongside innovative techniques such as 3-D printing, laser cutting, bonding and laminating. "Fashion and technology are inextricably connected, more so now than ever before," noted Thomas P. Campbell, Director and CEO of The Met. "It is therefore timely to examine the roles that the handmade and the machine-made have played in the creative process. This exhibition proposes a new view in which the hand and the machine, often presented as oppositional, are mutual and equal protagonists."
The Anna Wintour Costume Center is created similar to a traditional Maison de couture with ateliers of dressmaking and tailoring with toiles and prototypes as garments in the making. "Manus x Machina", sponsored by Apple with additional support provided by Condé Nast will celebrate its opening on the first Monday in May at the Met Gala, the fashion industry's grandest affair. This year's co-chairs are Idris Elba, Taylor Swift, Anna Wintour, and Apple's Chief Design Officer, Jonathan Ive. Nicolas Ghesquière, Karl Lagerfeld, and Miuccia Prada will serve as Honorary Chairs at the Gala.  Members of the Met will be able to preview "Manus x Machina" starting May 3-4. The exhibit will open to the public May 5- August 14.
Images: Courtesy of The Metropolitan Museum of Art