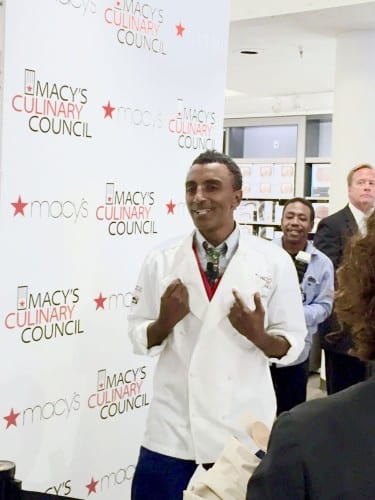 The Macy's flagship at Herald Square has undergone a $400 million major renovation to elevate the shopping experience. To celebrate the new world of home merchandise now located upstairs, Macy's Culinary Council Chef and fashion favorite Marcus Samuelsson gave a private walking tour of the 8th floor to select guests. The internationally acclaimed chef and restaurateur of New York's Red Rooster and Streetbird revealed his deep rich cultural tales from the kitchen and his chosen recipes to whip up just in time for the holidays. The best part: The samplings of course! Braised Short Ribs, and Rum Cake were passed as guests shared their favorite origin for dumplings. Thanks to Marcus Samuelsson, and Macy's Culinary Council we have 5 wonderful recipes to impress your guests and that will help you entertain in style!
Marrow Dumplings
Ingredients
For The Stuffing:
3 (5- inch) beef marrow pipe bones, split
Coarse kosher salt and freshly ground black pepper
½ pound shrimp (any size), peeled and chopped
For the Dumplings
2 ½ pounds russet potatoes, scrubbed
¾ cup all -purpose flour, plus more for dusting
½ teaspoon freshly ground pepper
Directions
For the Stuffing
Preheat the over to 450 degree F. Put the bones cut side up on a rimmed baking sheet. Roast for 5 minutes. When the bones are cool enough to handle, scrape the marrow out onto a cutting board with a spoon and chop it.
Heat a cast-iron skillet over medium-high heat. Add the marrow, pork, cumin, and salt and pepper to taste. Cook, stirring to break up the pork, until crumbly and browned, 7 to 8 minutes. Stir in the shrimp and garlic and sauté until the shrimp is cooked, 1 to 2 minutes. The marrow will render as you cook. Scrape into a bowl and cool to room temperature. Cover and refrigerate until you need it.
For The Dumplings
Preheat the over to 375 degree F. Prick the potatoes all over with a fork and back them directly on an oven rack until tender, 60 to 75 minutes. Cool the potatoes for 5 minutes. Cut the potatoes in half and peel them. Put them through a ricer and spread out on a rimmed baking sheet. Cool completely.
Beat the egg and yolk together and add to the potatoes with the flour, salt, and pepper. Knead until you have smooth, soft dough. Be gentle; you don't want to activate the gluten in the flour, which would make the dumplings tough and heavy. Line a baking sheet with parchment and dust with flour. Take the stuffing out of the refrigerator and stir it.
Turn the dough onto a floured surface and user your hands to roll it into a 12-inch log. Cut it into 12 equal pieces. Flour your hands and roll a piece of dough into a round. Flatten it into your palm, pushing down in the center to make a well, and add about 2 teaspoons of the stuffing. Pinch the dough over the stuffing, and roll the ball round again, making sure no stuffing escapes. Put the dumpling on the baking sheet and repeat. You will have leftover filling. Cover the dumplings with a kitchen towel.
Line a baking sheet with a kitchen towel. Bring a large pot of salted water to a boil. Add half he dumplings to the water. When they rise to the top, simmer for 8 minutes-keep an eye on the heat; you want the dumplings to simmer, not boil. Use a slotted spoon or skimmer to transfer them to the baking sheet. Cook the remaining dumplings and leave them uncovered while you cook the vegetables.
Serves 4 to 6
Braised Short Ribs
Ingredients
2 large pieces short ribs
2 cups apple cider vinegar
2 tablespoons Worcestershire sauce
2 tablespoons mild chili powder
2 tablespoons dried oregano
2 tablespoons chili flake
Directions
Sear short ribs in a rondeau. Remove when both side are done. Sauté mirepoix, thyme, bay leaves and garlic for 5-10 minutes. Put short ribs back in the pan and cover with the remaining ingredients. Bring to a boil, then reduce to a simmer for about 3 hours at 300F (meat should be tender and easy to cut.) Skim fat from sauce after removing ribs, then puree in Vita Prep. Taste sauce for seasoning, It should be sweet, spicy and tangy. Serves 4 to 6
Drunken Rum Cake
Ingredients:
3 tablespoons baking powder
4 tablespoons pastry cream filling mix
8 Eggs, separated, with whites whipped separately
Soaking Syrup
1 tablespoon vanilla beans
Directions:
Mix all the dry ingredients. Mix all the wet ingredients. Whip the egg whites until stiff. Combine the wet ingredients with the dry ingredients, and then add the egg whites and mix well. Pour the batter into 2 oz. molds that have been sprayed with cooking spray. Bake at 300 F for 15-20 min, check with a cake tester to make sure the cake is baked throughout. Let cool down a few minutes, take out of the mold. Make the syrup and pour over the cake.  Serves 6 to 8.
Smiley Face Salad
Ingredients:
For the Salad
Pickled or fresh pears, sliced
Marinated feta (feta marinated in olive oil)
For The Miso Cider Vinaigrette
1 cup shallots and ginger (minced)
½ cup apple cider vinegar
For Miso Mustard Glaze
Directions:
Place ingredients for the vinaigrette in a blender, except oil. Stream in oil while blending and season with salt.
Place ingredients for glaze in a bowl and blend till smooth and incorporated. Brush sliced squash pieces with glaze and roast until it pierces easily with a fork. Let cool. Serves 6 to 8
Ginger Beer Recipe
Ingredients:
Two 3 -inch pieces of ginger, peeled and coarsely grated
Directions:
Combine the lime juice, orange juice, water, ginger, sugar, cloves, and cardamom in a large saucepan and bring to a boil. Pour into a bowl and let cool.
Cover and refrigerate the ginger beer for at least 2 hours or up to 1 day. Strain before serving. Serves 10 to 12