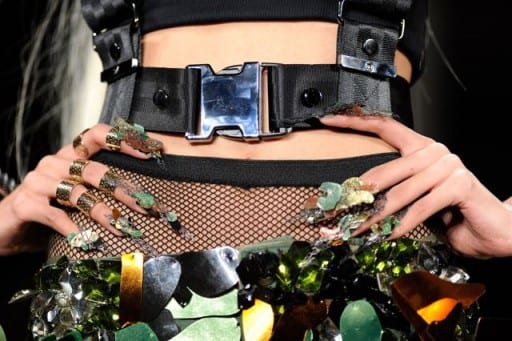 New York Fashion Week Fall 2015 has officially ended, and now is a fantastic time to recap a few of the stylish nail trends that have appeared on the runways this season! Designers worked diligently with nail experts on their overall inspiration and what has emerged is something exquisite. 
Photo Credit: Getty Images
The Blonds Fall 2015 
It was all about the distinction between edgy, design elements and high-end finishes. Nails were featured in bold 3D designs with gold chrome accessories, that were pierced, draped, laced, torn and burnt, accessorizing The Blonds' dramatic collection. The over-the-top manicures were achieved using CND® Liquid & Powder and BRISA® Gel. Next, layers of high-shine color were applied with CND® SHELLAC® brand 14+ day nail color and VINYLUX® Weekly Polish, using the latest techniques to create a suede matte texture.
Libertine Fall 2015
The collection included references to mythology and Indian culture and as such, nails were displayed in an assortment of shimmering, liquefied artwork creating an explosion of texture and color. To achieve this look, CND® Liquid & Powder was applied. Nails were also painted with VINYLUX® Weekly Polish and embellished with CND® Additives with diverse materials and accessories.
Opening Ceremony Fall 2015
CND nail care professionals fused three nail designs incorporating their fall trend of gritty street elements and glamour for Opening Ceremony's Fall 2015 collection. The collection highlighted an exclusive capsule honoring Kodak. Two nail designs encompassed modest linear nails featuring Kodak's signature color palette of red, yellow, blue and purple while the third look paid homage to film director, Spike Jonze and his early works. VINYLUX® Weekly Polish was chosen in an assortment of heavily pigmented colors to create the state-of-the art vertical and horizontal striping techniques, and a decoupage method was executed to lay Jonze's black and white photography on the nail.
  Christian Siriano Fall 2015
For Fall 2015, designer Christian Siriano was inspired by the Congo and presented a collection entrenched in the colors and features of the jungle. Siriano sourced a particular Pantone color from the collection resulting in a hunter green to black ombre nail wrap made possible by Jamberry Nails. The stress-free application of the nail wrap mixed with the myriad bold designs and patterns offered makes this a fashionable and exciting trend.
Nicholas K Fall 2015
The Nicholas K Fall 2015 runway show highlighted 3 custom designs from Jamberry nails, one encompassing a burgundy and black crackle print, fitting the leather and hardware accented separates from the runway that were shown in black and brown touched with traces of red and burgundy.