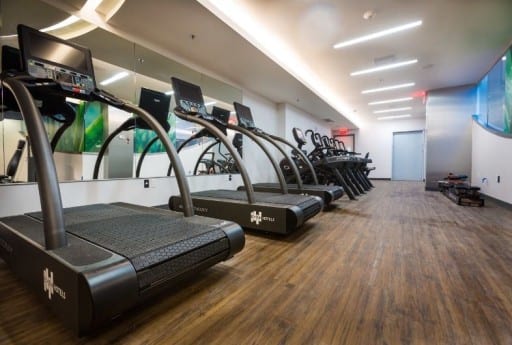 Even Hotels, a wellness style hotel opens first New York City location.
Maintaining a healthy routine while traveling can be quite difficult. Despite your intentions especially when the minibar is filled with indulgences and room service food options are limited, it is easy to lose focus. Alas, Even Hotels nestled in Times Square is the best destination to book when visiting New York City. This 150-room flagship hotel is dedicated to assist travelers find balance by creating an environment on 4 beliefs: Eat Well, Rest Easy, Keep Active, and Accomplish More.
Eating Well means guests can dine onsite at The Cork & Kale Market and Bar, where freshly prepared fare including house made granola, black kale salads, and hand-crafted cocktails made with organic ingredients are on the menu.
Rest Easy in a room that features eucalyptus linens, natural derived bath amenities, and LED mood lighting. If you like to exercise solo, no problem: guestrooms include an In-Room Training Zone equipped with a yoga mat, exercise ball, a foam roller, resistance bands and fitness videos.
Keep Active with the hotel's fitness facility called the Athletic Studio, which is larger than the average New York City apartment at 1,200 square feet. In addition to the equipment, spin and yoga classes are offered and morning runs off the Hudson River.
Accomplish More at your stay by relishing the hotel's Wellness Den that offers free Wi-Fi, table games, music and a cozy nook for reading. Highlights also include an ergonomically designed workspace incorporating moveable desks and stand-up desk options in guestrooms. Travel Well!
Even Hotels
321 West 35th Street
New York, New York 10013
855-TRY-EVEN