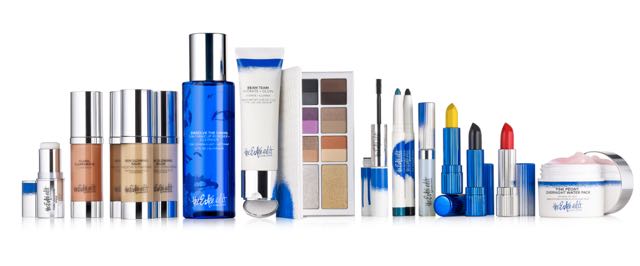 Estée Lauder reveals The Estée Edit to a new generation of beauty.
Estée Lauder has a new lineup for the beauty-obsessed and social media generation. It is called The Estée Edit, bringing new attitude to the billion-dollar industry and has enlisted fashion model and face of Estée Lauder Kendall Jenner and beauty blogger Irene Kim as the brand's guest editors. The Estée Edit features 82 products in makeup and skincare available exclusively in Sephora US and Canada stores and online. This is the first time the Lauder brand will appear in Sephora stores- they are typically housed in department and specialty stores.
The packaging reveals signature elements originally designed by the late Estée herself yet this time shown in silver and white fluted packaging with cobalt blue graphics. Targeting millennials, or a younger, modern consumer, The Estée Edit's collection offers a mixture of trend-based makeup and skincare at a friendly price point with items ranging from $15 to $50. "The Estée Edit is a win for both Estée Lauder and the Sephora client. We anticipate that The Estée Edit's mix of covetable trend-based makeup, instant-gratification skincare products, approachable price point, and millennial muses will receive a very positive reaction from our young and socially-engaged consumers," noted Artemis Patrick, senior vice president of merchandising, Sephora.
The Estée Edit collection is divided into three beauty attitudes:
The Edgiest, highlighting high pigment and color, The Barest featuring formulas in sheer washes of color and Guest Editor Glow consisting of makeup and skincare resulting in glowing and gorgeous skin. The collection also includes a new beauty category named Complexion Hybrids, which instantly creates a change in skin while simultaneously delivering skin care ingredients.