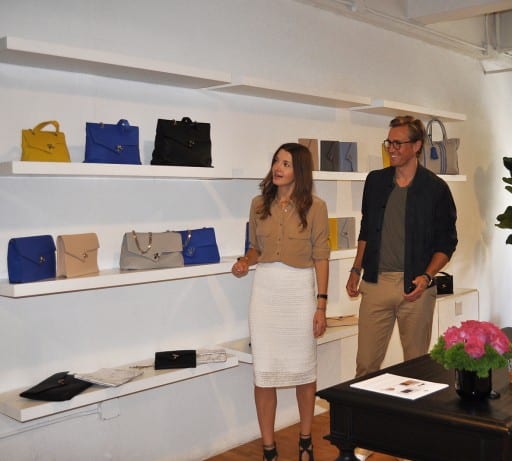 We Visit Ela Handbags For Spring 2015
To love fashion you must love all the accoutrements.
The jewelry…
The makeup…
The shoes…
And my favorite…. HANDBAGS!
I was fortunate enough to attend the Ela Handbag presentation during New York Fashion Week and experience a new idea to a handbag…LIGHTWEIGHT LEATHER!
We love our bells, whistles and 20lb hardware but the Ela brand will change your mind and that shoulder pain that has plagued you since you were in your teens.
Ela Handbags has something for every event and a variety of prints, textures, colors and even a lion with a piercing. I couldn't help but swoon and was tempted to hand over my Amex after holding Ela's personal camo clutch MILCK bag.
While there I had the pleasure of meeting Ela and Martin Aldorsson, the founders of this amazing brand who took the time to personally show me the collection and were more than happy to answer a few question that I had about the brand and them.
What's the first handbag you ever created and where is it now?
Ela: The first bag I designed is called the MILCK clutch. MILCK is an acronym for a woman's essential cargo: money/ID/lipstick/cellphone/keys. It embodies our signature asymmetrical flap and custom closure. It's still one of our bestsellers to this day and it was the overarching design signature in the development of the rest of the collection.
In an industry like handbags, how do you stay a step ahead of design and function?
Ela: We have always stayed true to who we are from an aesthetic and originality point of view, which I think, has resonated with our customers in the marketplace. We also are fortunate to be spending a lot of time in Europe for the leather shows as well as in New York where our showroom is located so we are always taking in new impressions and inspiration which we then translate into new silhouettes and new hardware and materials.
Martin: The absolute best way to stay connected to what is going on a consumer level is to spend time on the shopping floor (I can spend hours upon hours there:)
Who are some of your favorite designers?
Martin: The sneaker brand Common Projects – their shoes are very well designed and well made. I see them as the Ela version of humble luxury within the world of sneakers.
What dreams do you have for Ela?
Ela: To further grow the brand in Asia and Europe and to expand into other accessories categories.
What's your favorite Ela bag and what's your favorite non-Ela bag?
Ela: This is a difficult question, as I love them all! The current bag in high rotation is the Soulmate Clutch in camo print. Earlier in my career I had the privilege of working for the Parisian brand Hermès, where my true love affair with leather goods began. To answer the question, my favorite non-ela bag would be the Birkin.
Who gets the last word, Ela or Martin?
Martin: Ela
Ela: Ela
Why a personal note when you send out a bag?
Ela: The personal note ties in with our overall "humble luxury" brand philosophy. We want to celebrate the purchase with the customer and feel that they are connected to us in a direct way as they have taken the time to go on to our site and purchase the bag. The note is our way of saying thank you!
Ela, what's your fall fashion tip? Martin, what is yours?
Martin: Double-breasted jacket ideally in dark navy – looks good both with a t-shirt and jeans as well as with a shirt and tie.
Ela: Mixing textures/fabrics and layering as well as focusing on a monochromatic palette. (Cream, olive, tan, chestnut & greys)
Thanks again to Ela & Martin!
To view the collection visit elabyela.com
SaveSave