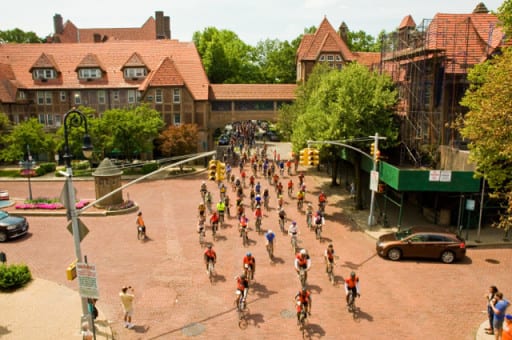 On July 12 Transportation Alternatives held their 8th annual Tour de Queens ride which began and finished in Astoria Park along the East River. The 21-mile route changes every year enabling riders to see different neighborhoods they normally may not have the chance to traverse. This year's ride went through Astoria, Long Island City, Sunnyside, Woodside, Maspeth, Rego Park, Forest Hills, and Corona. A rest stop halfway through the ride in Middle Village's Juniper Park enabled riders to refuel with bananas, watermelon and Kind bars.
The tour is a rolling parade of approximately 1300 cyclists that are escorted by the NYPD. The police and volunteer safety marshals block off intersections enabling all riders to roll through unimpeded. Special recognition needs to be given to the marshals who acted professionally while receiving driver hostility while blocking the intersections. Many motorists shouted "Do you have a permit for this?" or "I am calling 311 and filing a complaint against you". When this rider observed this occurring he could not resist shouting "You are using the wrong mode of transportation!"
Proceeds from the ride fund Transportation Alternatives' programs and initiatives to make streets safer for pedestrians and bicyclists as well as promoting the use of public transportation. The next Transportation Alternatives ride is the NYC Century on September 13.
Photo: Dan Burnstein