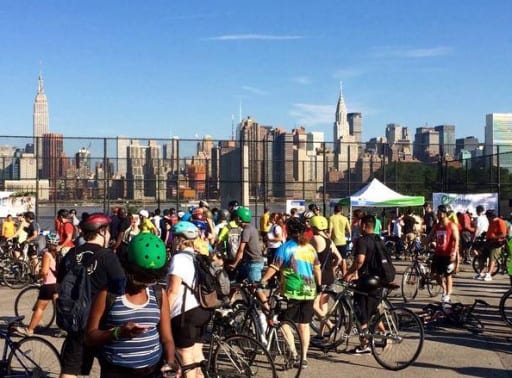 On July 25, 2015 Brooklyn Greenway Initiative held its seventh annual Epic Ride from Greenpoint, Brooklyn to Rockaway Beach, Queens. The route took riders through existing greenways along the waterfront as well as open roads where work will commence to connect them to existing greenways. Ultimately this will enable bicyclists to ride almost the entire waterfront without being exposed to vehicular traffic. Now how 'epic' would that be?
Riders checked in early in the morning at Newtown Barge Playground along the East River and were offered coffee courtesy of Brooklyn Roasting Company After enjoying the stunning view of the Manhattan skyline and receiving their wristbands riders embarked on their 40-mile journey.
The Epic Ride offered two rest stops – one in Micro Center in Sunset Park where Whole Foods provided various snacks and the other in historic Floyd Bennett Field where refreshments from Sahadis hummus and Nuun energy drinks were offered. Highlights included riding through newly built Brooklyn Bridge Park where cyclists were met with spectacular vistas of the Manhattan skyline and riding under the majestic Verrazano Narrows Bridge. The journey ended on the boardwalk at Rockaway Beach where riders were welcomed with live music and Rockaway Company Beer until the kegs ran out. Disappointed with there being no beer upon his arrival, this biker valeted his bike courtesy of Spinlister and went straight for an extended dip in the ocean.
Photo: Will Ragozzino